News
Cushing Public Schools will be on Spring Break March 18-22.

On February 18, 2019, Cushing Public Schools will launch a new visitor check-in system, called School Safe ID, to better ensure the safety of all students, employees, and visitors. For the first...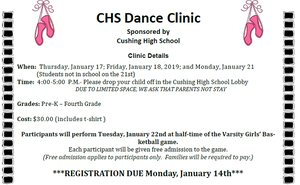 Sign up now for the CHS Dance Clinic! The clinic will be held January 17th, 18th, and 21st from 4:00-5:00 in the CHS Lobby. The cost is $30 which includes a T-shirt. Forms were sent to CPK, CLE,...
See all news