News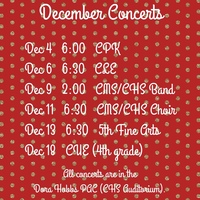 The Cushing Public Schools Fine Arts Department has a number of concerts scheduled during the month of December. All of them will be held at the Dora Hobbs Performing Arts Center (CHS Auditorium). Be...
There will be no school Wednesday, November 21st through Friday, November 23rd for Thanksgiving Break.
UPDATED LINK! CPS 2018-19 calendar now available here: http://bit.ly/19Cal
See all news
Live Feed
Feel welcome to join us for the "Popcorn Feast" on Tuesday, Nov. 20th, at 12:15 - 12:50 pm. We will have the sharing of the corn a ...
about 20 hours ago
Sally Wright
We will be honoring our Cushing Schools superintendent, Mr. Koln Knight, on Monday, Nov. 19th. He will be touring our school and i ...
3 days ago
Sally Wright
We are excited about our CUSHING PRE-K CHRISTMAS PROGRAM! It will be Tuesday, Dec. 4th, CHS Auditorium. The doors will open at 5:45 ... View Image
4 days ago
Melissa Amon
There will be no school Wednesday, November 21st through Friday, November 23rd for Thanksgiving Break. View Image
4 days ago
Melissa Amon
See all posts