News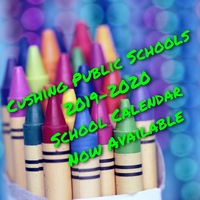 Download the 2019-20 CPS School Calendar here: bit.ly/CPS1920

On February 18, 2019, Cushing Public Schools will launch a new visitor check-in system, called School Safe ID, to better ensure the safety of all students, employees, and visitors. For the first...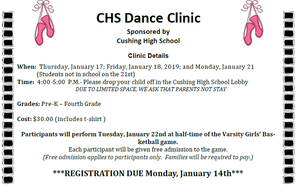 Sign up now for the CHS Dance Clinic! The clinic will be held January 17th, 18th, and 21st from 4:00-5:00 in the CHS Lobby. The cost is $30 which includes a T-shirt. Forms were sent to CPK, CLE,...
See all news
Live Feed

Our telephone provider outage experienced this morning has been fully resolved. You may reach your child's school at the regular n ...
2 months ago
Justin Annis
Please check lost and found to see if any items we have belong to your child before the last day of school. Parents, thanks for yo ...
2 months ago
Sally Wright

Our telephone provider is currently experiencing an outage on our school phone numbers. You can reach your child's school by calli ...
2 months ago
Justin Annis
Cushing Pre-K still has some extra video yearbooks and regular yearbooks about your child's school year if you are interested. Ple ...
2 months ago
Sally Wright
See all posts