News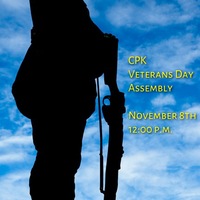 Cushing Pre-K Veterans Day AssemblyFriday, November 8th, 201912:00 p.m.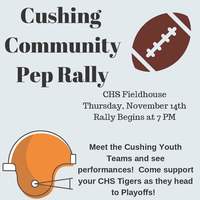 Cushing Community Pep Rally on Thursday, November 14th at 7:00 p.m. in the CHS Fieldhouse! Go Tigers!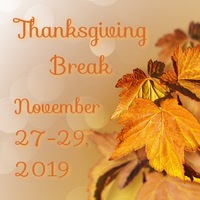 Cushing Public Schools will be closed November 27-29, 2019 for the Thanksgiving holiday.
See all news
Live Feed
Please sign up for Parent Teacher Conference in your child's classroom or by calling 918-225-4683 at Cushing Pre-K. You may choose ...
2 days ago
Sally Wright
Here is the Valentine Party Schedule for Cushing Pre-K: Mrs. Vassar's class will be Tues., Feb. 11th -- Mrs. Shaw's and Mrs. Taylor ...
3 days ago
Sally Wright
Don't miss out on the Cushing Pre-K yearbook, on sale now for $25. This annual is a soft cover book with the year's activities. Y ...
about 1 month ago
Sally Wright
This is just a reminder that today will be the "Popcorn Feast" at Cushing Pre-K at 12:15 pm in the gym. Parents are welcome to com ...
about 1 month ago
Sally Wright
See all posts