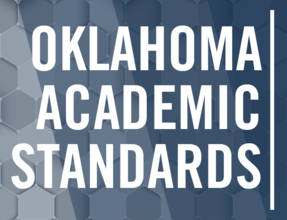 Oklahoma Academic Standards serve as expectations for what students should know and be able to do by the end of the school year. These standards were written by Oklahomans for Oklahoma.
The development, review, and revision process involves stakeholders throughout the state of Oklahoma and is an ongoing and critical component to ensuring Oklahoma students in every classroom receive current and relevant learning experiences.
The goal is that all students be college and career ready upon graduation from high school.
What Oklahoma Academic Standards Do
Do focus on deep thinking, conceptual understanding, and real-world problem solving skills

Do set expectations for students to be College, Career, and Citizenship ready

Do incorporate literacy in Science, Social Studies, and Technical Subject

Do emphasize the use of citations and examples from texts when creating opinions and arguments
Do increase rigor and grade-level expectations

Do determine the full range of support for English Language Learners and Students with Special Needs
What Oklahoma Academic Standards Do Not
Do not dictate how teachers should teach

Do not mandate a specific curriculum

Do not limit advanced work beyond the standards

Do not require the purchase or development of entirely new instructional materials

Do not prescribe all that can or should be taught

Do not limit efforts to prepare students for college, career, and citizenship readiness

Do not prescribe interventions for students below grade‐level