Reminder for CMS Parents / Guardians: Report cards may be picked up today at CMS between 8:00 am and 3 pm. Have a great summer!
Cushing Lower Elementary will dismiss early on Friday, May 14th. Car riders will begin dismissing at 1:05. Bus riders will dismiss at 1:08. Have a wonderful summer!

CPK Parents: Remember to be in the carline on Friday, May 14, no later than 12:55 pm to pick up your child on the last day of school tomorrow. If you ordered a VIDEO YEARBOOK, they will be sent home in backpacks TODAY. We have a few left, so call 918-225-4683 if you would like to purchase one. Thanks :)

CPK Parents: We will be sending home DVD Video Yearbooks this week. We have a few extra copies of your child's classroom video available. The price is $10, payable in correct change or a check to Cushing Pre-K. Thanks for your support!

We'd like to say a special thanks to Jackie Bush of Cushing Bus Transportation for providing a bus workshop for our pre-k students! They are so excited to be able to ride the bus next year, and now they all know how to be safe.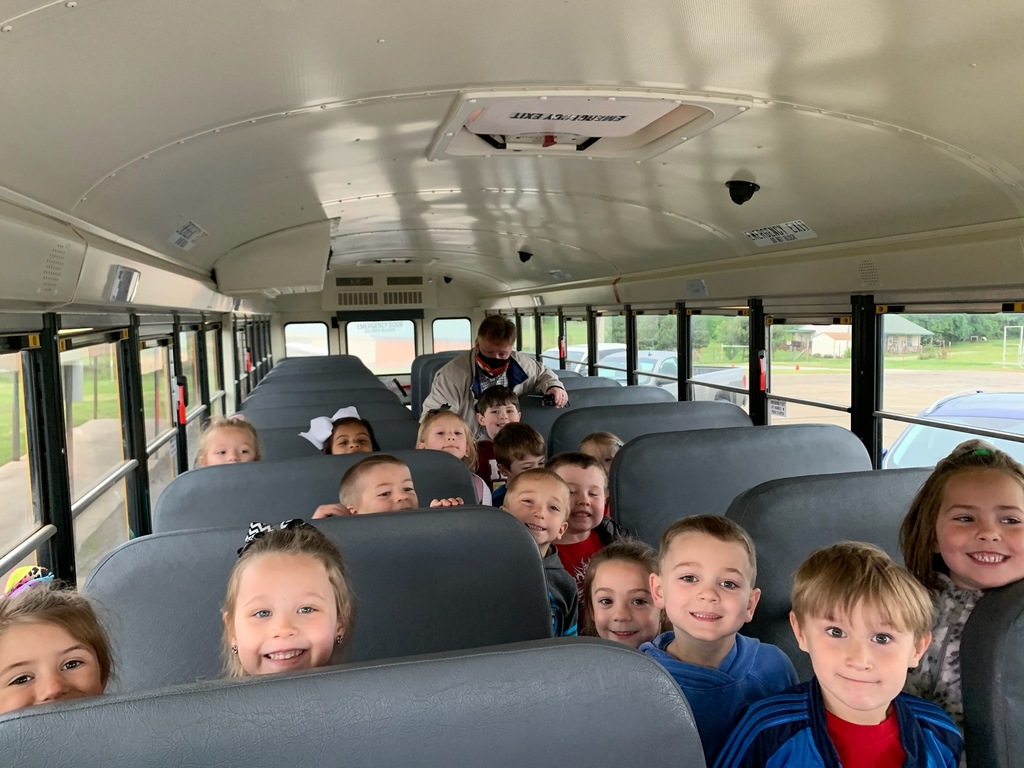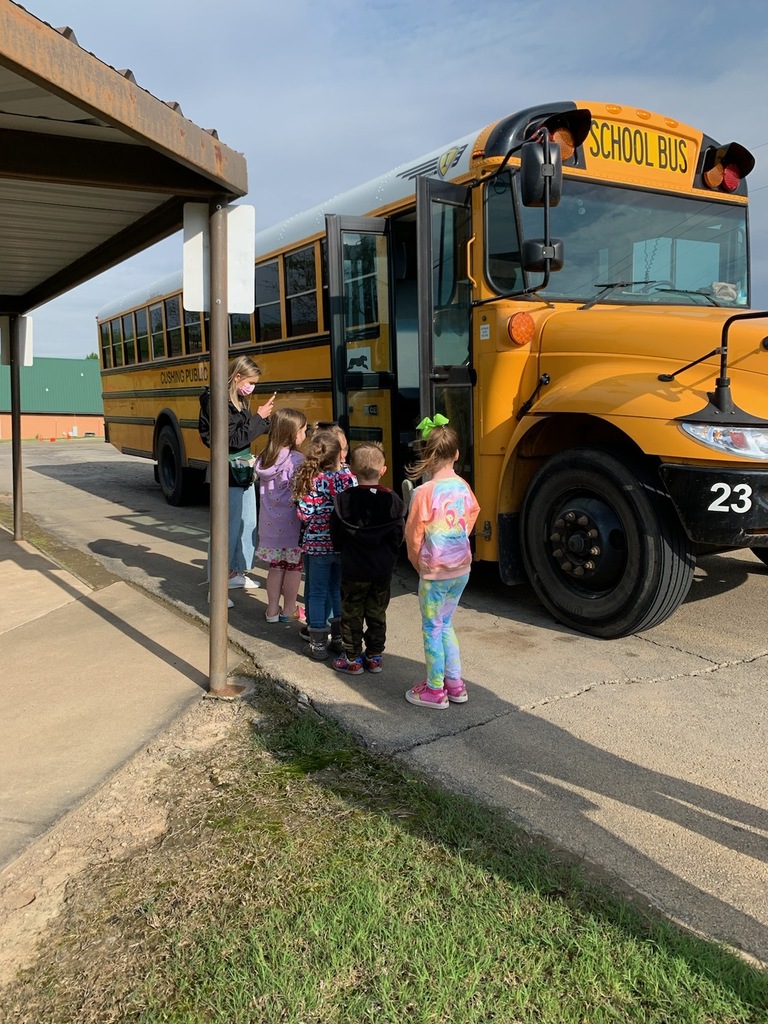 To: CMS Parents Important reminders for CMS students: 1) All CMS chromebooks should be turned in tomorrow (Wednesday, 5/12/21). Please make sure that students bring their chromebook and their charger! Students are responsible for paying for replacement chargers for those that are damaged or lost. Note: Any 8th grader who is enrolling in Honors English at the high school will need to turn in their chromebook tomorrow. However, they will have an opportunity on Friday to check it back out for summer work. Students will be given that information tomorrow. 2) Grade-level awards assemblies will be streamed live on the CPS Facebook page on Thursday, May 13th. 5th Grade @ 9:00, 6th Grade @ 9:30, 7th Grade @ 10:00, and 8th Grade @ 10:30. If you are unable to view the assembly live, it will be available for later viewing on the CPS Facebook page. We will also send out a link for the assemblies afterwards so that it can be viewed later by parents as well. We will also have a special 8th Grade Class video presentation that will be made available for parents to view. A link for that will be sent out on Thursday, 5/13/21 after the virtual awards assembly. 3) The 8th Grade Promotion Field Trip is tomorrow at the Main Event - Tulsa. We will load the busses at 9:30 a.m. Students will be back on campus at approximately 3:00 p.m. in time for regular dismissal. Thank you!
To: CMS 6th - 8th Grade Parents Free physicals for 7th-12th grade athletes this Wednesday, May 12th, at the CHS field house at 6pm. OSSAA Physical Forms are being sent home today with students that will be in athletics next year. They must be filled out and signed by a parent.

During Teacher Appreciation Week, we are honoring support staff, those retiring, and our wonderful Custodians and Cooks at Cushing Pre-K!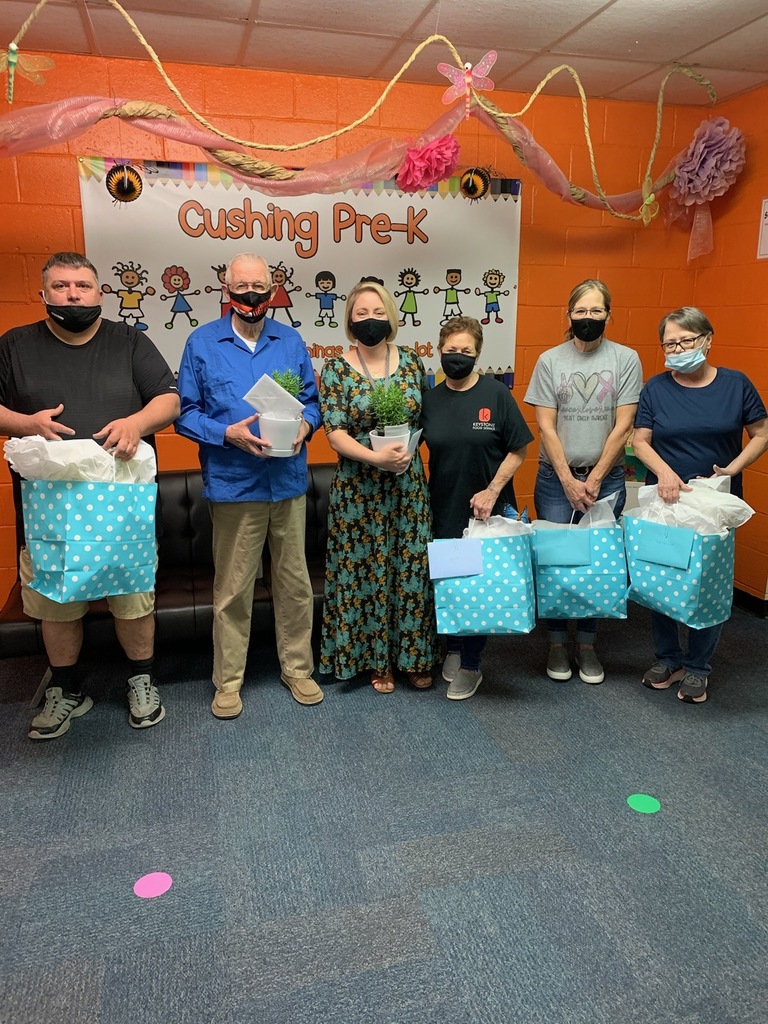 We still have 10 yearbooks left on a first-come basis. Please come to Cushing Pre-K with correct change or a check payable to Cushing Pre-K for $25.00. It's a great yearbook!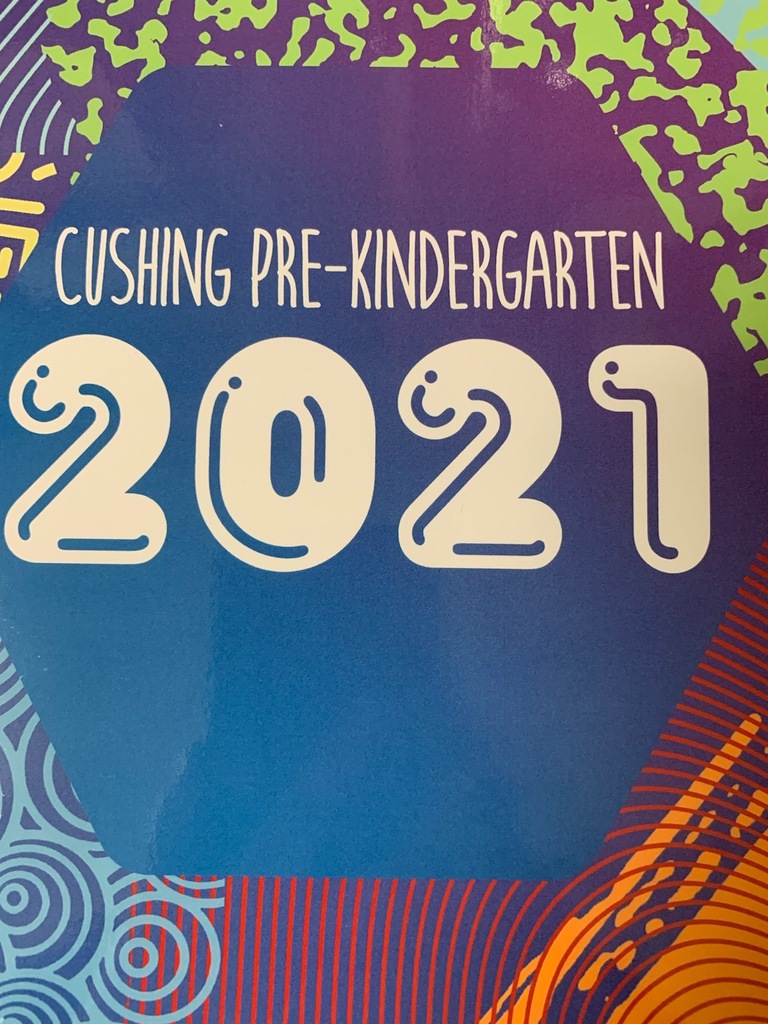 We still have some spots left at Cushing Pre-K! Hurry and enroll now to secure a place for your child in our pre-k program. For more information, call 918-225-4683.
To: CMS 5th/6th Grade Parents Jr. Olympics is still on for today at the football field. Students will bus over, and it will begin at 1:00. We encourage you to come out and watch your student in their events! All students must be picked up by 3:30 at the football field. Students will not be allowed to walk home from the field without a parent note. Have a Tiger day!

Hurray for the Cushing Pre-K team - what a blessing to be able to work with this dedicated staff! Happy Teacher Appreciation Week!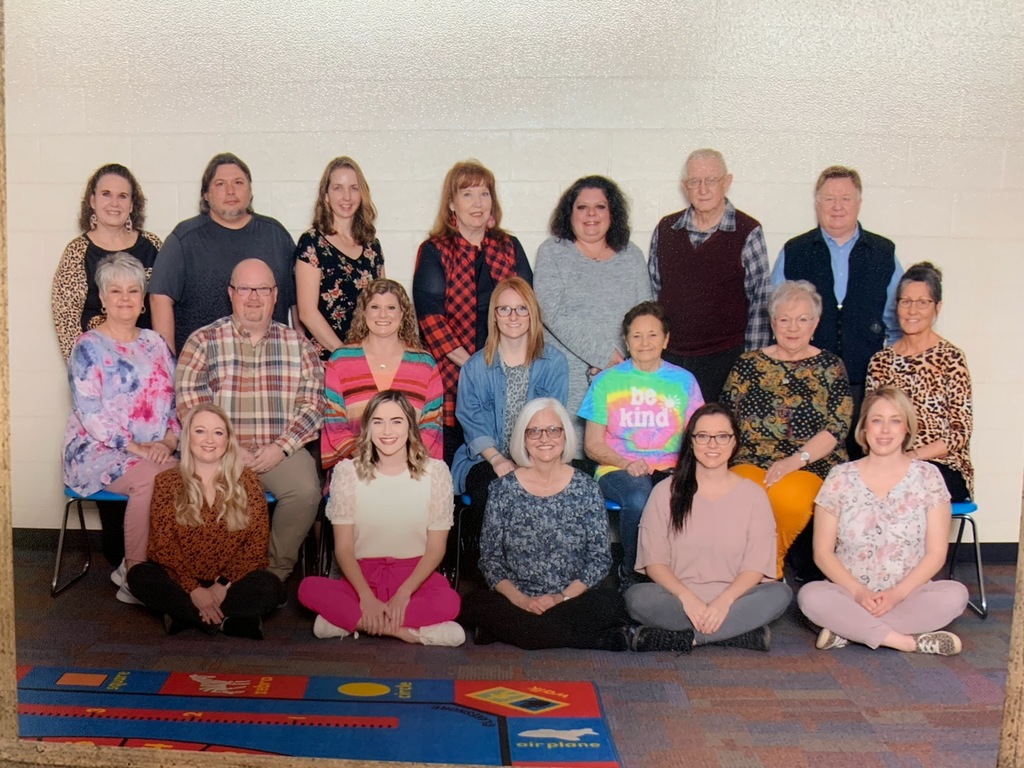 To: CMS 5th & 6th Grade Parents: Just a reminder for you that the 5/6th Jr. Olympics is tomorrow, May 4th at the football field. It will begin at 1:00. We encourage you to come out to watch if you are able to - there is no charge to get in. All 5th and 6th grade students will need to be picked up at the football field by 3:30. If your child needs to walk home, they must have a parent note before they will be allowed to leave. We hope to see you tomorrow!
To: CMS Parents / Guardians, As we get closer to the end of this unique and unprecedented school year, we wanted to provide you with some information regarding the end-of-the year awards assemblies for CMS 5th – 8th grade. After careful consideration of all Covid factors and limitations that have affected us this year, CMS will not have end-of-the-year awards assemblies in person. Each individual grade level will instead have a scheduled time to come together with their peers on Thursday, May 13th where students will be recognized and teachers will present awards for the year. The awards presentations will be virtually live-streamed and recorded for parents and family. Also on Thursday, May 13th, there will be a special presentation for our 2021 eighth grade class. They will be honored and recognized with a virtual promotion and awards assembly. Links for all presentations will be provided to parents as we get closer to the date. We would like to thank you for the patience, understanding, and support that you have shown as we have navigated through such an uncertain and unique school year. We feel very fortunate to have been able to have our students on campus and in school for most of the school year. Thank you for partnering with us in our efforts to provide the best education for our students under such extraordinary circumstances. ~CMS Administration
Cushing Upper Elementary is inviting all of its families to shop their Scholastic Book Fair online from April 19th through May 2! All purchases will benefit Cushing Upper Elementary and connect kids with new books, favorite characters, complete series, and more. Visit our Book Fair Homepage and click "Shop Now" to get started:
https://www.scholastic.com/bf/cue1

Suzanne Reece with Southwest Dairy stopped by Cushing Pre-K this morning with a real dairy cow! We learned a great lesson about the benefits of milk, and our students actually watched a cow getting milked. Fun day at Cushing Pre-K!

Cushing Pre-K Enrollment begins Monday, March 22nd! For information, go to cushingtigers.com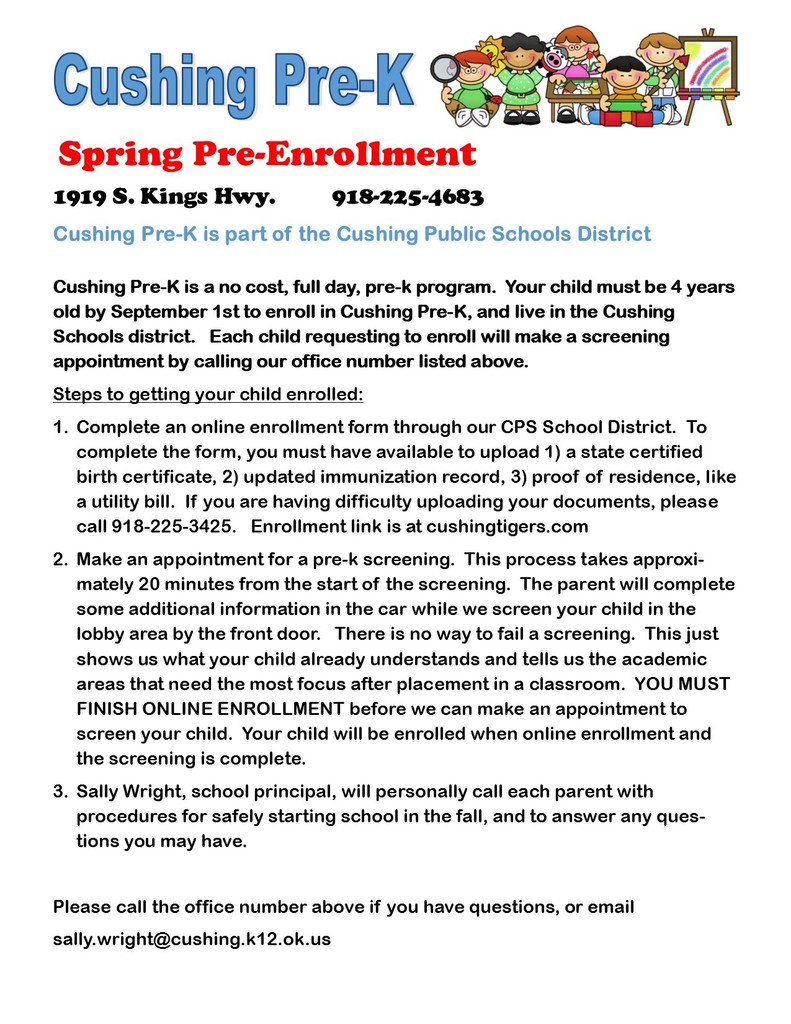 Purchase your Cushing Lower Elementary Yearbook today! You can purchase online at
https://bit.ly/3bvY7ao
or sending cash or check to school with your child. Cash/check payments (payable to TreeRing) must be for the exact amount ($15.63).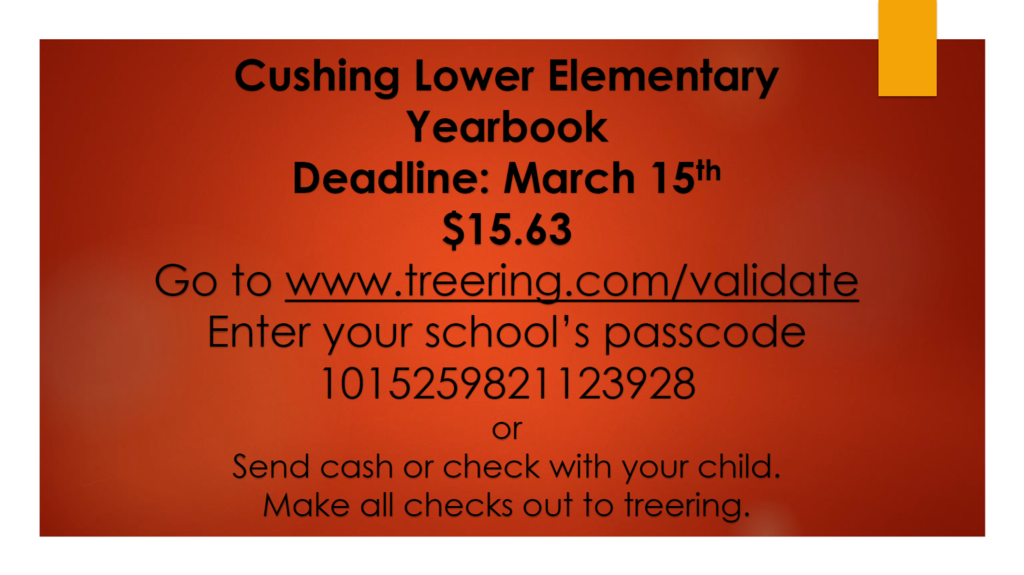 Cushing Public Schools will remain closed on Friday, February 19th, 2021. Virtual learning will be available for students.